Add your review
Crocus sativus size 8/9 - BIO
Crocus sativus size 8/9 - BIO
these bulbs can be ordered for the 2024 season
ATTENTION! These bulbs will be dispatched as soon as possible after July 22, 2024
These size 8/9 saffron tubers are fully organically grown without the use of any chemical crop protection products or synthetic fertilizers and are certified with a European organic certificate for Crocus sativus bio. Go to the description of Crocus sativus size 8/9 - BIO
Description
Organic Crocus sativus bulbs size 8/9
Experience the rich aroma and vibrant color of organic saffron from your home-grown garden with our Organic Dutch Saffron Bulbs. These certified organic bulbs are carefully grown in the Netherlands on bio-certified sandy soils, ensuring the highest quality and nutrient content.
These bulbs are of size 8/9, with a circumference between 8 and 9 centimeters, and a diameter between 2.55 and 2.86 centimeters. Although they may not flower profusely in the first autumn after planting, under normal growing conditions, they will bloom beautifully and provide a generous organic saffron yield after a growth cycle of 1 year.
Organic certified bulbs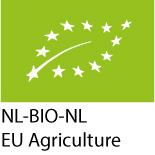 Certified organic by Skal Biocontrole, an independent organization that supervises the entire organic chain in the Netherlands, you can be confident that our bulbs are free from chemical crop protection agents or fertilizers. Our organic certificate is available for you to view and download for complete transparency: Organic certificate
High quality bio bulbs
The BKD, commissioned by the Dutch Food and Consumer Product Safety Authority, has also qualified our bulbs with class 1, ensuring top-quality and freedom from quality defects and quarantine pathogens.
Choose our Organic Dutch Saffron Bulbs for an exquisite and organic saffron harvest right from your own garden. Buy online now and elevate your culinary creations to the next level.
Specifications
| | |
| --- | --- |
| Bulb size | 8/9 |
| Circumference of the corms | 8 - 9 cm |
| Diameter of the corms | 2,55 - 2,85 cm |
| Quality of the corms | Class 1, NL-BIO-01 |
| Planting time | From mid-August to late September |
| Flowering time | From mid-October til late November |
| Quantity of flowers in the first year | 40 to 80 flowers per 100 corms |
| Produces saffron for consumption: | Yes |
| Suitable for naturalization in garden: | No |