The Koot Family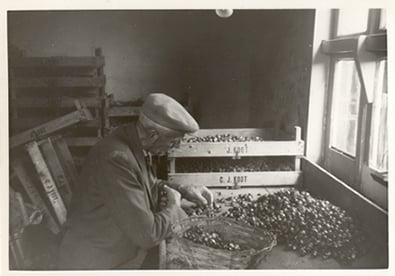 Around 1900 the Koot family started to cultivate bulbs. In those days it was on a small scale combined with keeping cows. The grandfather, Jaap Koot, grew tulips, daffodils, crocuses, gladioli and irises. From generation to generation the growing of bulbs became more important and thus expanded. The father, Cees Koot, had, after spending some time growing flowers and plants, continued cultivating bulbs.
Specialization in unusual Flower Bulb Species and the Crocus Sativus
Cees Koot concentrated on growing several varieties of unusual bulb species, among them Colchicum, Kaiserscrown, Ixia and Allium. Some 30 years ago, a flower bulb species called Crocus Sativus was then bought. Reading up about this variety made us realize we just found our gold. It kindled our interest and vision to expand our growing capacity. Currently, Crocus Sativus is our biggest seller.
In 2005 father Cees Koot left the cultivation of Crocus Sativus entirely to its son Jaap and daughter-in-law Anna. The company name has changed to Bloembollenbedrijf J.C.Koot Bloembollenbedrijf J.C.Koot subsequently.



The main supplier of Crocus sativus bulbs in the Netherlands
In the course of time, our company has grown considerably and today we are one of the largest and most important suppliers of Crocus sativus bulbs in the Netherlands.
We collaborate with a number of renowned flower bulb growers and sell and export our organic and non-organic saffron bulbs to customers in more than 50 countries around the world.
Due to the fact that we have more than 30 years of experience in the cultivation and production of saffron, we are able to provide our customers with information and assist them in setting up their saffron cultivation.


---