Three generations of flower bulb growers in the Koot family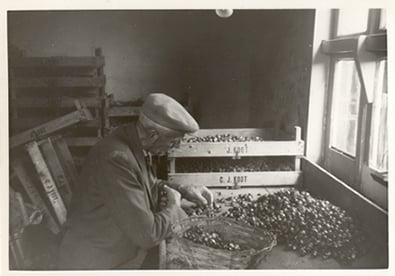 Flower bulb cultivation has been in our veins for a very long time. It was around 1900 that the Koot family first started growing bulbs, at that time on a small scale combined with keeping cows.
My grandfather, Jaap Koot, cultivated tulips, daffodils, crocuses, gladioli and irises, among others. In the course of time, flower bulb cultivation became the main source of income and its farming expanded. My father, Cees Koot, after growing flowers and plants for some time, took over from my grandfather and continued the flower bulb business.
Specialization in unusual Flower Bulb Species and the Crocus Sativus
CWhen in the eighties the interest in unusual flower bulbs grew and in addition to the popular bulbous plants such as tulip, daffodil and hyacinth became an increasingly important market, my father decided to specialize in the cultivation of various types of unusual flower bulbs, like Colchicum (Autumnal Colchicum), Fritillaria (Emperor's Crown), Ixia (African Corn Lily) and Allium (Ornamental Garlic).
Because my father was fairly well known in the Netherlands in the field of various special flower bulb varieties, at one point he was able to take over a batch of Crocus sativus bulbs from a fellow grower who had decided to stop his business due to his age. In the beginning, we didn't really know what kind of bulbous plant the Crocus sativus was, except that the bulb looked funny with its hairy appearance and the cute little plume on its head.
After much reading in domestic and foreign books, at that time the Internet did not exist, we found out what a special flower bulb species the Crocus sativus exactly was. It turned out to be the saffron crocus, a unique plant needed to produce the spice saffron. From that time on, we knew we had something unique on our hands and began to specialize more and more in the cultivation and propagation of the Crocus sativus. Mainly because in the early years of our cultivation the demand for quality Crocus sativus bulbs in countries like France and Italy was booming, our acreage steadily expanded from a few square meters to a current area of several dozen hectares. This is how we grew from a small-scale nursery to one of the most important cultivation and export companies of Crocus sativus in the world.



Bloembollenbedrijf J.C.Koot and sativus.com
In 2005, when my father reached the age where all the work in the saffron business became too hard for him, he transferred the cultivation and sale of Crocus sativus in its entirety to my wife and me, Anna and Jaap Koot, and the company name was changed to: Bloembollenbedrijf J.C.Koot.
As the Internet started to play an increasing role in reaching potential customers around the world, we launched our website: sativus.com immediately after the acquisition. Besides the fact that we are very enthusiastic about everything related to saffron, we also felt that our Crocus sativus bulbs should be available in small quantities for private customers. To accomplish this, we have added to our website a wonderful web shop where anyone can purchase bulbs to their heart's content in order to grow their own saffron.
More than 30 years of experience in growing Crocus sativus and saffron
In the period from the beginning, when we got our hands on the saffron crocus until today, when we are one of the leading growers and exporters, we have gathered a lot of information on how to best grow Crocus sativus and under what conditions in order to be able to harvest the perfect saffron. This wealth of saffron knowledge allows us to give our customers answers to most questions about cultivation and help them establish a profitable saffron crop. Therefore, if you have a question, please do not hesitate to contact us, preferably by e-mail.
Saffron is a wonderful product and we believe that this special spice should be able to be grown by everyone.
---